Purford Green primary scoops pioneering mental health award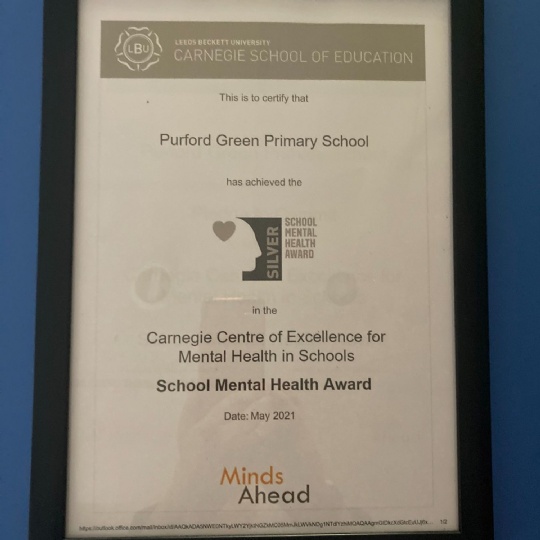 Purford Green Primary school has achieved the School Mental Health Award which is delivered by the Carnegie Centre of Excellence for Mental Health in Schools. Purford Green School were awarded a Silver standard for its effective mental health and wellbeing provision.
Purford Green provides a wide range of activities to boost the wellbeing of pupils and staff, including mindfulness sessions, their own set of pupil life experiences for children to engage in - unique to the school, staff team building events and work closely with local charities and the local Mind in West Essex support service.
The school has established a Wellbeing base for pupils to use as a drop in service to explore feelings they are finding difficult to manage within social settings run by pastoral staff. They have also established a leadership team of Pupil Wellbeing Champions who promote the school's 'Five Ways to Wellbeing' and encourage positive thinking from staff and pupils throughout the school.
Purford Green's head teacher, Rhonda Smith said: 'I am extremely proud of staff and children who have been instrumental to us gaining this award. Mental health and wellbeing are at the forefront of our thinking as a school, as positive mental health is essential for children and staff to be successful in their learning journeys and in their job roles.
'The award has allowed us to gain valuable feedback from pupils on aspects of emotional regulation that they struggle with and a focal point for our mental health and wellbeing provision has been giving children the language and confidence to be able to discuss and share their feelings with others. In turn this has improved pupil relationships further. Children are also supported to solve conflicts with their peers through our step-by-step conflict resolution approach which has empowered children to take responsibility for solving some of their own problems.'
A focal point of the school's mental health and wellbeing provision is ensuring that staff feel able to share aspects of school life that are deemed to be stressful or aspects of school life that need improving as this allows senior leaders to amend working practices and procedures where necessary to support staff. Miss Smith said: 'Happy staff leads to happy children. It is fundamental that staff are listened to, feel supported and can share their views to maintain a positive atmosphere within the workplace.'
The award was established in 2017 by the Carnegie Centre of Excellence for Mental Health in Schools – part of Leeds Beckett University – and social enterprise Minds Ahead.
The Carnegie Centre of Excellence for Mental Health in Schools aims to strengthen pupils' mental health by supporting schools to make a positive change at all levels of the UK's education system, improving students' outcomes and life chances.
Professor Damien Page, Dean of Leeds Beckett's Carnegie School of Education, said: 'Achieving this award is not just recognition of a whole-school approach to mental health, it's a recognition of the school's commitment to improving the life chances of children and engaging with the wider community including staff and parents/carers.
'We're truly proud to have worked with Purford Green in this vital work and look forward to further collaboration.'
Nationally, more than 1000 schools have signed up to take part in the mental health award.
Dean Johnstone, founder and CEO of Minds Ahead said: 'This award shines a light on the excellent work schools are doing to promote mental health for their community of children and adults.
'It is thrilling and humbling to learn about Purford Green engaging in the quality award process. I'd like to offer my congratulations on this deserved recognition.'